String Slicing in Python
Python slicing is about obtaining a sub-string from the given string by slicing it respectively from start to end.
Python slicing can be done in two ways.
slice() Constructor
Extending Indexing
slice() Constructor
The slice() constructor creates a slice object representing the set of indices specified by range(start, stop, step).
Syntax:

slice(stop)
slice(start, stop, step)

Parameters:
start: Starting index where the slicing of object starts.
stop: Ending index where the slicing of object stops.
step: It is an optional argument that determines the increment between each index for slicing.

Return Type: Returns a sliced object containing elements in the given range only.
Index tracker for positive and negative index:
Negative comes into considers when tracking the string in reverse.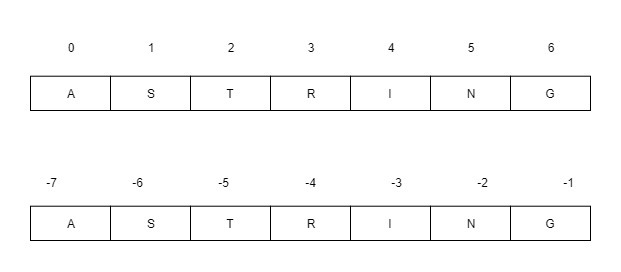 Example
# Python program to demonstrate
# string slicing
# String slicing
String ='ASTRING'
# Using slice constructor
s1 = slice(3)
s2 = slice(1, 5, 2)
s3 = slice(-1, -12, -2)
print("String slicing")
print(String[s1])
print(String[s2])
print(String[s3])
Output:
String slicing
AST
SR
GITA

Extending indexing
In Python, indexing syntax can be used as a substitute for the slice object. This is an easy and convenient way to slice a string both syntax wise and execution wise.
Syntax
string[start:end:step]
start, end and step have the same mechanism as slice() constructor.
Example
# Python program to demonstrate
# string slicing
# String slicing
String ='ASTRING'
# Using indexing sequence
print(String[:3])
print(String[1:5:2])
print(String[-1:-12:-2])
# Prints string in reverse
print("\nReverse String")
print(String[::-1])
Output:
AST
SR
GITA

Reverse String
GNIRTSA
Last Updated on October 28, 2021 by admin