How to change the Tkinter label text?
Tkinter is a standard GUI (Graphical user interface) package for python. It provides a fast and easy way of creating a GUI application.
To create a tkinter application:
Importing the module — tkinter
Create the main window (container)
Add any number of widgets to the main window.
Apply the event Trigger on the widgets.
Widgets are the controlling tools for any GUI application. Here widget's main role is to provide a good variety of control. Some widgets are buttons, labels, text boxes, and many more.
One of its widgets is the label, which is responsible for implementing a display box-section for text and images. Click here For knowing more about the Tkinter label widget.
Now, let' see how To change the text of the label:
Method 1: Using Label.config() method.
Syntax: Label.config(text)

Parameter: text– The text to display in the label.
This method is used for performing an overwriting over label widget.
Example:
# importing everything from tkinter
from tkinter import *
# creating the tkinter window
Main_window = Tk()
# variable
my_text = "GeeksforGeeks updated !!!"
# function define for
# updating the my_label
# widget content
def counter():
# use global variable
global my_text
# configure
my_label.config(text = my_text)
# create a button widget and attached
# with counter function
my_button = Button(Main_window,
text = "Please update",
command = counter)
# create a Label widget
my_label = Label(Main_window,
text = "geeksforgeeks")
# place the widgets
# in the gui window
my_label.pack()
my_button.pack()
# Start the GUI
Main_window.mainloop()
Output: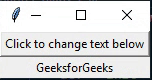 Method 2: Using StringVar() class.
Syntax: StringVar()

Return: String variable object
This class is used the for setting the values and changing it according to the requirements.
# importing everything from tkinter
from tkinter import *
# create gui window
Main_window = Tk()
# set the configuration
# of the window
Main_window.geometry("220x100")
# define a function
# for setting the new text
def java():
my_string_var.set("You must go with Java")
# define a function
# for setting the new text
def python():
my_string_var.set("You must go with Python")
# create a Button widget and attached
# with java function
btn_1 = Button(Main_window,
text = "I love Android",
command = java)
# create a Button widget and attached
# with python function
btn_2 = Button(Main_window,
text = "I love Machine Learning",
command = python)
# create a StringVar class
my_string_var = StringVar()
# set the text
my_string_var.set("What should I learn")
# create a label widget
my_label = Label(Main_window,
textvariable = my_string_var)
# place widgets into
# the gui window
btn_1.pack()
btn_2.pack()
my_label.pack()
# Start the GUI
Main_window.mainloop()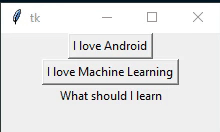 Last Updated on March 1, 2022 by admin